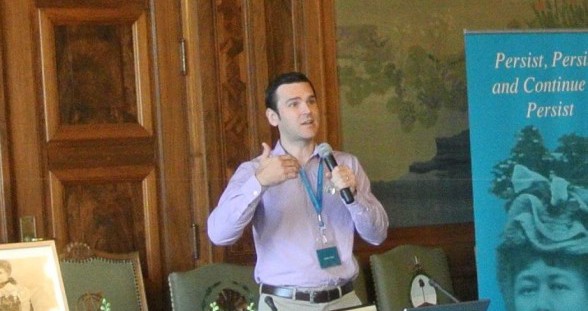 At Central Michigan University, I regularly teach courses in social and political philosophy and ethics.  Many of my courses, described below, focus on issues of social justice and global ethics.
Teaching Resources
When I teach a topic, I often collect resources that are helpful in the classroom or for further exploration.  I have made some of these resource collections available on this site as works in progress.
Social and Political Philosophy
Philosophy 422
We will study basic questions of political life at the domestic and global levels. How does power operate within and between societies? What conceptions of justice are adequate to the tasks of evaluating social institutions and relationships and of guiding social change?
Feminist Theory
Philosophy 426 / Women and Gender Studies 426
Examination of theories that describe and criticize the social, cultural and political status of women and offer alternatives to the status quo. In addition to examining in general the concepts of gender, sexism, oppression and epistemic position, we will study how these ideas have been developed in a range of approaches to feminist theory, including liberal, humanist, Marxist, gynocentric, radical, socialist, Third Wave, and queer-theoretical frameworks. The course will connect these theories to particular political and philosophical problems that feminist theory addresses.
The Civil Rights Movement
Philosophy 345
This course examines the American Civil Rights Movement based on the award-winning documentary television series, Eyes on the Prize. In studying the struggle of African-Americans for justice, we will seek to understand the character of racial injustice, the consequences of segregation, the political background of white resistance, the principles and strategies of nonviolent activism, and the debates among those inside and outside of the movement about how to realize the promise of American democracy. While the events of the Civil Rights Movement will form the center of our discussion, we will consider developments in American society both prior to the movement and up to the present day.
Racism and Discrimination in the United States through Dialogue
LAR 145
This interdisciplinary course examines the historical and economic causes of racism and ways of achieving a just society.  A primary objective and learning method involved in the course is to deepen one's understanding of social justice by engaging in effective dialogue with people from different backgrounds and with different social identities.
Moral Problems
Philosophy 118
The course will study in some depth a number of ethical issues that arise in social and personal life. We will examine ethical questions and problems that arise in connection with war and peace, racism, sexism, gender and sexuality, and our relationships to non-human animals.